PolarModder
Full Member
Member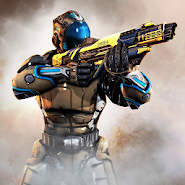 ⭐Playstore Link:
https://play.google.com/store/apps/details?id=com.madfingergames.legends&hl=en_AU
⭐Requirements:
Root: No
Obb: Yes
⭐Mods for this game:
➡ Godmode
➡ Unlimited Ammo
➡ Enemy Stop Attack(Glith)
➡ Speed Changer(Glith)
⭐Downloads:
➡Apk:
https://linkgenie.me/s/x8GbB
➡Obb: (Download off of the play Play Store!)
➡Zarchiver Pro:
http://exe.io/Xjj5GH
⭐Preview:
Enjoy!! <3 It would mean so much to me if you could make a video using the mod as it helps the forum grow. Thank you
NOTE: If you upload my mod on YouTube, you must leave credits. You must leave a link to my YouTube channel, and one to the forum! Thank you, and enjoy the mod. The download link used MUST redirect to the forum, or you will be striked.